About Sang won Park
Origins
Sang Won Park is a master of the Gayageum (kayagum), a Korean 12 silk-stringed zither from the 5th century, and a singer. Mr. Park's repertoire ranges from traditional music to contemporary and improvisational music and songwriting.
Mr. Park, a native of Seoul, began his studies at the National Classical Music Conservatory where he trained in music, singing, and dance as well as western music. He earned his B.A. and M.A. in performing and musicology at Seoul National University.
He was a member of the Traditional Music Orchestra of Seoul and a researcher at the Academy of Korean Studies and an instructor at Seoul's leading schools of music.
While serving in the military as an officer in the DMZ, he found his love for natural beauty which influences the peace and tranquility so often apparent in his music.
American debut at Carnegie Hall
After receiving his Masters Degree in 1978, the Korean Minister of Culture chose Sang to participate in the International Folk Art and Workshop Project for the United Nations "Year of the Child." While spending the year in New York City working with the UN, he took full advantage of his new home, seeking out performance opportunities wherever possible.
Those performances lead to an invitation from a DJ at WBAI-FM to perform on a live radio variety show. Originally scheduled for midnight on a Saturday, Sang's slot was pushed back until he performed last, around 2:00am. Grateful for the opportunity, but quite certain no one would be listening, Sang performed his set and returned home.
Robert Browning, the music director at the Alternative Center gallery in SoHo, was listening intently. He called Sang the next day and invited him to perform a concert at the gallery. In attendance at that concert was Tom Johnson of the Village Voice who wrote a review of Sang's performance, and his own personal discovery of Korean traditional music, in that publication.
On the strength of that review, Sang was invited by Seaman Productions to perform on a program at Carnegie Hall. This performance would open the door to years of music making around the world.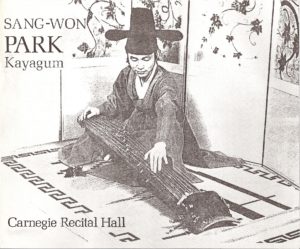 International Touring, Notable projects, Life in New York
The Carnegie concert opened the door to multiple invitations from institutes and concert halls throughout the United States and Europe. Sang spent the next two years touring and recording on several continents. The International Theatre Institute in Germany invited him to perform, and he received a Goethe Institute Scholarship, bringing him to West Berlin for 3 months to observe and research theatre production there.
Les Amis De. L'Orient and Sono Disc in Paris produced an album entitled "Le Kayagum de Park Sang Won".
He was featured in "Rhythm of the World", a documentary produced for BBC-TV and "Improvisation", a documentary written by Derek Bailey and produced by Channel 4 of U.K.. His life and music has been broadcast on National Public Radio titled "Old Tradition, New Sound", narrated by Judy Collins.
Since 1980, he has resided in New York City and performs traditional music to western audiences and actively collaborates with many avant-garde musicians. He joined with renowned guitarist Henry Kaiser and percussionist Charles K. Noyes and produced "Invite the Spirits", a double album on the OAO/Celluloid label. He has appeared with performing artist Laurie Anderson in concerts, on her record "Mr. Heart Break", and featured in the movie "Home of the Brave". He has also appeared in Nam Jun Paik's acclaimed satellite spectacular "Bye Bye Kipling" on Public Television.
Mr. Park formed the improvisational music group, Far Eastside Band with violinist Jason Kao Hwang, percussionist Yukio Tsugi, and tuba player Joe Daily and produced two albums, "Cavern" and "Urban Archaeology", and performed at many international festivals. His open attitude to making music has reached the dance concerts, films, and prestigious concert halls of North America, South America, Europe, and Asia.
Mr. Park is a musician and a businessman in NYC who ran two upscale flower shops for 25 years. After retiring from the business, he now lives on a mountaintop retreat and is working as a realtor and musician.
He is honored to meet the music mentor and collaborator Stephen Selman of East Mountain Studio in Cold Spring, NY and continue writing songs and recording new music.